MOXI Launches New EEHA Installation, Maintenance & Detailed Inspection Course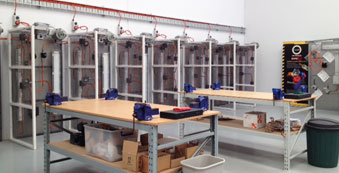 Following two and a half years of development and thousands of development hours, leading EEHA service provider MOXI Pty Ltd has officially launched the totally revamped course, with a major focus on the practical demonstration of competency.
The Installation, Maintenance and Detailed Inspection (IMDI) of Electrical Equipment in Hazardous Areas (EEHA) is critical consideration in resource extraction, processing and distribution facilities across a multitude of industries, from upstream oil & gas and mining, to downstream oil & gas refining, mineral processing, grain handling, distilling, hospitals, power generation – anywhere where a potentially explosive atmosphere may occur due to buildup of gases, vapors or dusts.
MOXI has long been the leading provider of EEHA training to Australian standards, through their training centers in Perth, Darwin and Kuala Lumpur, as well as delivering training services throughout Australia and further afield in New Zealand, South Korea, Singapore, Thailand, Norway and Romania among others.
Sam Zacha, Managing Director of MOXI explains why the new course was developed. "These types of EEHA work are tool based, rather than desk based and in any field, best practice is to teach and assess students (our clients) in their working environment as much as possible. This is why MOXI has innovatively refreshed how the IMDI course and competencies are delivered so that 60% of the assessment is conducted practically, rather than 70% in the classroom."
MOXI established Australia's first practical facility for teaching EEHA courses back in 2008 and now courses incorporate a hands-on Ex cable glanding lesson, and the "Bang Bang Box" - an explosive and effective demonstration of Ex protection methods.
Prior to launch, the course was scrutinized by a panel of highly regarded members of industry. They were impressed by MOXI's focus on training efficacy and demonstrating competency in a practical sense.
MOXI trainer, Graeme Dale, who holds a Master's degree in adult education, explains the benefits of the new delivery method. "The legacy IMDI course was like running a mental marathon – there is a mountain of information that clients must absorb and demonstrate competency on in just 5 days. By delivering and assessing information more practically, we ease the mental loading on clients so that knowledge is more effectively absorbed. As trainers and assessors, we can better teach and guide clients over the 5 days and we can increase our confidence in assessing and deeming them competent or otherwise."
The new IMDI course is already being delivered at MOXI's training centers, which boast some of the best equipped EEHA training facilities in the region, with spacious classrooms and industry leading workplace simulation facilities. A maximum of just 8 clients per class ensures that the vast technical content is most effectively delivered to each individual by highly qualified and experienced trainers.